Wendy Davis goes to Washington: Did Texas abortion fight create a new star?
(Read article summary)
Wendy Davis gained national fame for her staunch opposition of a Texas abortion bill. Now, she's coming to D.C. to raise money and sounding like someone who might run for governor.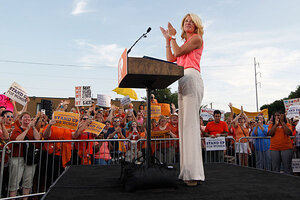 Ron T. Ennis/Star-Telegram/AP
There are rare cases when a local politician bursts onto the scene with such gusto that he or she manages to captivate a national audience and, almost overnight, inspire talk of a career on the rise. Barack Obama, with his 2004 Democratic National Convention address, did just that, setting him on a rapid ascent from Illinois state senator to US senator to becoming the nation's first black president.
But just as often, those lawmakers tend to stumble somewhat on the way up – think Sen. Marco Rubio of Florida during his Republican Party response to Mr. Obama's State of the Union address or Democratic presidential candidate Howard Dean's cringe-inducing primary night scream in Iowa in 2004.
Texas' Wendy Davis – the telegenic state senator who captured the hearts of many Democrats across the country as the pink-sneakers-wearing Lone Star State mama who filibustered Republicans' initial attempt to enact one of the strictest abortion laws in the nation – is the latest star in the making. Even after the Texas Legislature subsequently passed the bill she had worked so hard to sink, she is garnering national attention for her efforts.
---