Where's the bacon? Rand Paul-Chris Christie feud all about 2016.
(Read article summary)
New Jersey Gov. Chris Christie and US Sen. Rand Paul of Kentucky mixed it up this week over foreign policy, spending, and civil liberties. Call it the first GOP primary debate for 2016.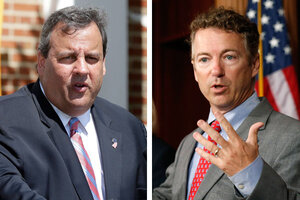 Mel Evans/AP and Kevin Lamarque/Reuters
Many might be wondering about all that talk of bacon between two leading contenders for the 2016 Republican presidential nomination. Well, New Jersey Gov. Chris Christie and Sen. Rand Paul of Kentucky aren't exactly beefing about brunch orders.
Like two dogs sniffing each other in a crowded park, they're testing each other's mettle in advance of what's likely to be a jam-packed GOP primary. They're playing, as some reports suggest, for the "heart and soul of the Republican Party" by engaging in a feud about national security and government spending.
Will Senator Paul and the isolationists lay claim to a fractured and directionless GOP? Or will Governor Christie and the East Coast government-has-purpose centrists win out? With this feud, the politicians are also sampling messages, angling for headlines, and jockeying for position within the field of would-be contenders.
Here's the quick skinny on the multi-day fracas and how that bacon dig played out:
Last week during an Aspen Institute forum, Christie slammed Paul's libertarian foreign policy views. He invoked the families who lost loved ones on 9/11, suggesting generally that Paul's ideology – his opposition to warrantless federal surveillance programs, for example – is "very dangerous."
"You can name any number of people and he's one of them," Christie said of Paul. "These esoteric, intellectual debates – I want them to come to New Jersey and sit across from the widows and the orphans and have that conversation. And they won't, because that's a much tougher conversation to have."
---