Poll: Chris Christie, Hillary Clinton are America's 'hottest politicians'
(Read article summary)
By 'hottest,' a new Quinnipiac poll means most likely to generate warm and fuzzy feelings from respondents. High score for New Jersey Gov. Chris Christie is something of a surprise, pollsters say.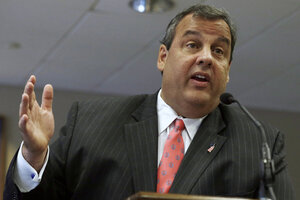 Mel Evans/AP
New Jersey Gov. Chris Christie and ex-Secretary of State Hillary Rodham Clinton are the "hottest politicians" in the United States, according to a just-released Quinnipiac University national poll.
On average, respondents rated Governor Christie, a Republican, at 53.1 degrees on a notional thermometer meant to measure the warmth and favorability of their feelings toward major US political figures. Mrs. Clinton, a Democrat, came in a tick behind, at 52.1 degrees.
"Former Secretary of State Hillary Clinton's score is not surprising given her lengthy political career and especially strong support among Democrats and women," said Peter A. Brown, assistant director of the Quinnipiac University Polling Institute, in a statement. "But Gov. Christie's rating is impressive given that his experience – less than four years as governor – pales compared to Mrs. Clinton's résumé."
A surprising third in the Quinnipiac survey was Sen. Elizabeth Warren (D) of Massachusetts, who ranked at 49.2 degrees. President Obama was tied for fourth, at 47.6, the same hotness quotient earned by Sen. Kirsten Gillibrand (D) of New York.
---