Hillary Clinton: Could her past derail White House bid? (+video)
(Read article summary)
Hillary Clinton will host a fundraiser for family friend Terry McAuliffe, who's running for governor of Virginia. But he ties her to a past that she might be wary of embracing.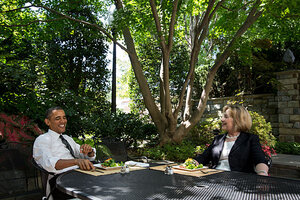 Chuck Kennedy/White House Photo
So former Secretary of State Hillary Rodham Clinton will hold a fundraiser for Virginia gubernatorial candidate and close family friend Terry McAuliffe, according to the McAuliffe campaign.
That makes sense. Mr. McAuliffe has been in the Clintons' political and personal inner circle for years now. He acted as their go-to fundraiser during the Clinton presidency and ran Ms. Clinton's 2008 presidential campaign. These days, he's one of Mr. Clinton's golfing buddies, and Mr. Clinton gave $100,000 to his campaign. For the Clintons, opening up their Washington home to raise money for McAuliffe, who's locked in a tight race, seems like a no-brainer.
But for Ms. Clinton, it is not without political risks.
These days, Clinton's two terms as first lady seem almost like the Mesozoic. The Hillary Clinton who tops every poll of potential Democratic nominees for president in 2016 is the product of a political rebirth – eight years in the Senate, a historic presidential primary fight with Barack Obama in 2008, and four years as secretary of State. This Hillary has so eclipsed the Hillary of universal health care, Whitewater, and the Monica Lewinsky scandal that the latter seems a fossil – a curious relic of a time long gone, buried under the sediment of recent history.
But be sure, Republicans are already digging, and McAuliffe highlights the potential perils of Clinton's past.
---