What's Michelle Obama doing for fun these days? Hint: It involves rap.
(Read article summary)
Michelle Obama is teaming up with Jordin Sparks, Ashanti, and Run DMC on a rap album called "Songs for a Healthier America." She's been having more fun in the second term.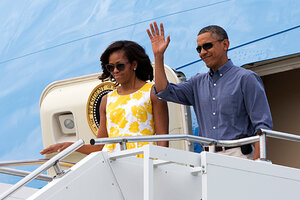 Jacquelyn Martin/AP
Sometimes a girl just wants to have fun – even (or maybe especially) when she's first lady of the United States.
Aside from vacationing on Martha's Vineyard with her family this week, Michelle Obama has been doing a lot of that lately. She posted a selfie of herself and dog Bo on Twitter and Instagram last weekend. She danced during her kids' "state dinner" last month. And who can forget her doing the Dougie in February on "Late Night with Jimmy Fallon," where she demonstrated "the evolution of mom dancing"?
Now Mrs. Obama is breaking the mold again – with a rap album. She's not singing, but she appears in one of the videos, called "Everybody." The album – called "Songs for a Healthier America" – is inspired by the first lady's Let's Move! campaign, and features big-name performers like Jordin Sparks, Ashanti, Run DMC, and Doug E. Fresh.
Song titles include "U R What You Eat" and "Veggie Luv." The album is being produced by the Partnership for a Healthier America and Hip Hop Public Health Foundation, and will be released Sept. 30. The videos will be distributed to schools in New York City before wider circulation. Fighting childhood obesity is one of Mrs. Obama's signature causes.
---