Rep. Steve Stockman invites Obama rodeo clown to Texas. Why?
(Read article summary)
Obama rodeo clown is already banned for life from the Missouri State Fair. Now the NAACP wants an investigation into whether his actions were 'inciting violence' against the president. Rep. Steve Stockman of Texas says 'liberals want to bronco bust dissent.'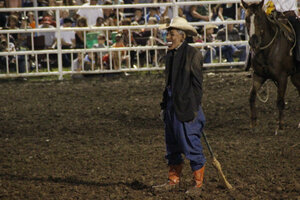 Jameson Hsieh/AP
Rep. Steve Stockman (R) of Texas has invited the rodeo clown who performed wearing a mask of President Obama at the Missouri State Fair to appear at an event in the Lone Star State.
The Missouri stunt lit a nationwide controversy over race and free speech that's now entering its fourth day and continues to roil US social media.
Missouri fair officials banned the clown from their bull rings for life and ordered other clowns to undergo sensitivity training. The Missouri chapter of the NAACP asked the US Justice Department to investigate the clown for inciting violence against the president by asking the crowd if it wanted to see Mr. Obama run over by a charging bull.
Meanwhile, conservatives say Democrats are engaging in selective outrage, forgetting similar incidents involving representations of George W. Bush during his presidency.
"Liberals want to bronco bust dissent. But Texas values speech, even if it's speech they don't agree with," said Representative Stockman, in a press release Wednesday.
---