Scott Brown 2016? Why testing the Iowa waters is a smart move
(Read article summary)
Former Massachusetts Sen. Scott Brown (R) showed up in Iowa over the weekend – bait for political media. But 2016 aside, Brown and the GOP still win from the maneuver.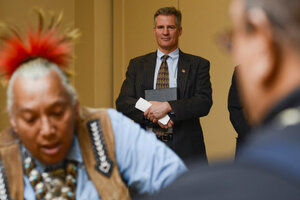 Will Wrobel/The Telegraph/AP/File
Scott Brown for president. Really?
For folks who follow politics, that may well be the reaction. The former Republican senator from Massachusetts – who served not even three years after winning a stunning upset in a special election to replace the late Sen. Edward Kennedy (D) – turned up in Iowa over the weekend.
And that has set political tongues to wagging, given the Iowa caucuses' role as the first hurdle on the way to the presidency.
But, again, we ask: Scott Brown? Sure, he has good hair, a likable persona, and decent campaign skills. And he was a rare Republican who succeeded in the liberal Northeast (though ask Mitt Romney how that worked out in a national setting). But after losing to Democrat Elizabeth Warren last November, Mr. Brown didn't even run for Massachusetts' other Senate seat, the one vacated by John Kerry when he became secretary of State. Instead, Brown opted for a job at a major Boston law firm and a gig as a Fox News contributor.
So here's why Brown's visit to Iowa and other Midwestern locales – clearly aimed at planting his name in the 2016 chatter – makes sense: It helps the Republican Party, and it helps his own political future.
"Having all the viewpoints in there is good," says Ford O'Connell, chairman of CivicForumPAC. "It does not mean everyone who's in it is in it to win it. But I think he is, on the one hand, doing the party a service. The question is: How far does he push what appears, right now, to be nothing more than a publicity stunt."
---