Trayvon Martin case: Will it be 'forgotten,' as Colin Powell says? (+video)
(Read article summary)
Trayvon Martin was a rallying point for a new surge in African-American activism. But former Secretary of State Colin Powell suggests the case won't likely have a lasting impact.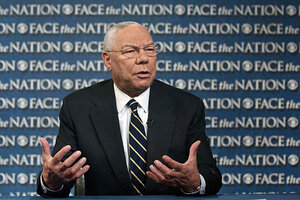 Mary F. Calvert/CBS/AP
Speaking on CBS's "Face the Nation" Sunday morning, former Secretary of State Colin Powell – the first black man to hold that position – was asked to give his opinions about the Trayvon Martin case.
He began by calling the judgment "questionable." Neighborhood watch captain George Zimmerman was acquitted of manslaughter and murder charges in his killing of Trayvon, who was 17, unarmed, and black.
But just as interesting as his doubts about the justice of the verdict are his doubts about the historical importance of the case. While the trial stirred deep questions about race in America, Mr. Powell seemed to dismiss the idea that it would leave any lasting imprint.
"I don't know if it will have staying power," he said. "These cases come along, and they blaze across the midnight sky and then after a period of time, they're forgotten."
It raises the question: What might the enduring impact of the Zimmerman trial be – if any?
Certainly, State of Florida v. George Zimmerman is no Brown v. Board of Education, the United States Supreme Court ruling in 1954 that found "separate but equal" treatment of blacks unconstitutional and laid the groundwork for the end of Jim Crow and the rise of the Civil Rights Era. By most legal and cultural measures, the impact of the Zimmerman case on America has been negligible.
---