Michelle Obama 'suspicious' of Syria strike
(Read article summary)
Americans overwhelmingly oppose a US military strike on Syria, and loyal supporters in the president's own party – not to mention Michelle Obama – are wary, too.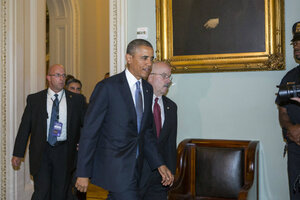 J. Scott Applewhite/AP
As President Obama makes his case to Congress and the American people for allowing military action against Syrian President Bashar al-Assad, he might consider a lobbying effort closer to home. It seems first lady Michelle Obama is "wary" of strikes, the president said on NBC's "Today."
"I am taking this vote in Congress and what the American people are saying very seriously, because if you ask somebody, you know, I read polls like everybody else. And if you ask somebody, if you ask Michelle, 'Do we want to be involved in another war?' the answer is no," Mr. Obama said Monday in an interview with Savannah Guthrie.
"You know, if you – if you talk to my own family members, or Michelle's," Obama added, "you know, they're very wary and suspicious of any action."
The first lady, often the president's most effective and beloved surrogate, has not commented publicly about Syria. The administration has trotted her out previously to pitch everything from health-care reform to, well, Obama's reelection. She has enviable approval ratings, by the standards of anyone holding elected office.
The reticence she is apparently feeling echoes the sentiments of many across the political spectrum. A vast (and growing) majority of Americans surveyed are against military involvement.
And perhaps, as her adopted title of mom-in-chief suggests, her hesitation similarly reflects that of families across the country who, after a decade of war in Iraq and Afghanistan, have grown tired of sending America's young people into harm's way. Many express an eagerness for renewed focus on the issues, pocketbook and otherwise, affecting citizens here at home.
---