Syria weapons deal: Could it really work?
(Read article summary)
Syria weapons deal forwarded by Russia has made significant headway in terms of international geopolitics. Some commentators saw it as a win-win, although others warned it's a trap.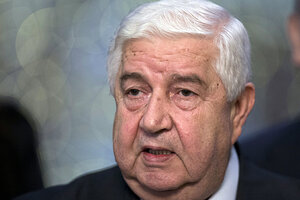 Alexander Zemlianichenko/AP
Will Syria really hand over its chemical weapons to Russia? That's a crucial question facing Washington as Russia's proposal to have the Bashar al-Assad regime do just that continues to make significant headway in terms of international geopolitics.
On Tuesday, Syria fully accepted the proposal. Speaking in Moscow, Syrian Foreign Minister Walid al-Moallem said his government would agree to what he termed a plan to "thwart US aggression," according to The Associated Press.
Russian Foreign Minister Sergei Lavrov added that Russia and Syria would now work together to produce a detailed plan of action leading to international control and destruction of Syrian chemical weapons stocks.
Meanwhile, France said it would start a resolution process in the United Nations Security Council on Tuesday. Foreign Minister Laurent Fabius said at a Paris news conference that France – like Russia, a permanent Security Council member – would do this under a section of the UN charter that allows for military enforcement.
This international dance of the foreign ministers occurred after President Obama said on Monday that Russia's initial proposal could be "potentially a significant breakthrough." But he added that he remained skeptical that Syria would actually undertake to give up its chemical weapons, and that the US needed to maintain a threat of possible military action to compel the Assad regime to act.
Some US foreign-policy commentary saw Russia's proposal as a win-win: a way for the United States to avoid military strikes, while helping the Syrian people via elimination of Mr. Assad's chemical weapons threat.
---