Having contradictory thoughts about the debt ceiling? You're not alone.
(Read article summary)
People think the government spends too much, but they like their federal programs just as they are. Congress's budget-master Doug Elmendorf is here to help.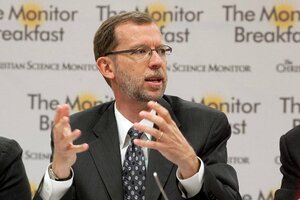 Michael Bonfigli/The Christian Science Monitor
Doug Elmendorf sounds frustrated, in a good-natured way. The head of the nonpartisan Congressional Budget Office sees big fiscal problems looming for America, and the public just doesn't get it.
The CBO chief says most members of Congress understand the problem: Federal health and retirement programs threaten to overwhelm the budget and damage the economy, unless Washington does something. But the public complicates things.
"One obstacle to progress is that I'm not sure that members of the public understand the nature of the challenge," Mr. Elmendorf told reporters at a Monitor breakfast this week.
"I think there are many people in the country who don't like federal spending in the abstract and don't want to pay more in taxes to support more federal spending in the abstract, but who actually put great value on the benefits they receive from Social Security, Medicare, and Medicaid," says the Princeton- and Harvard-trained economist.
Elmendorf doesn't blame the Average Joe for not spending hours poring over the CBO's website, reading his blog, and checking out the reports. (Oh, and CBO also now has two Twitter accounts: @USCBO and @USCBOcostest.) But having a well-informed public might make his – and Congress's and the president's – job easier.
The public's seemingly contradictory views play out repeatedly in opinion polls on the fast-approaching limit on Washington's borrowing authority, known as the debt ceiling.
---