Why government shutdown won't stop Obamacare
(Read article summary)
Government shutdown would grind many federal programs to a halt, but Obamacare isn't one of them. A freeze on spending wouldn't end the program's tax credits for lower-income Americans or mandates.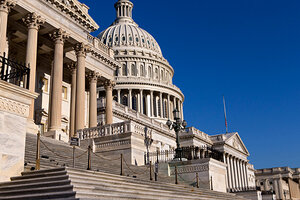 J. Scott Applewhite/AP
Here's a little secret about the conservative GOP push to defund Obamacare: Even if Republicans who oppose the president's signature health-reform law stand fast and shut down the government over the issue, Obamacare will keep on chugging along.
That's right. For the most part, the Affordable Care Act (ACA) is armored against attacks on its annual appropriations. So, in that sense, a government shutdown would be the equivalent of taking a swing at Obamacare but hitting the Department of Agriculture instead.
Look, don't get mad at us – these are the conclusions of the Congressional Research Service, which looked at the issue in July in response to a request from Sen. Tom Coburn (R) of Oklahoma.
"It appears that substantial ACA implementation might continue during a lapse in annual appropriations that resulted in a temporary government shutdown," says CRS.
Let's look at the shutdown state-of-play before going further, shall we?
The House on Friday passed a government spending bill that would strip money from Mr. Obama's health law. Conservatives committed to repealing the law hailed the move as the first step toward its demise.
---