What's a RINO? How the Republican purity test took an odd turn.
(Read article summary)
A flag-bearer of the new Republican Party this week found common ground with one of the most liberal Senate Democrats. But, strangely, there wasn't a hint of outrage.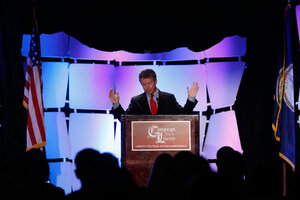 Kevin Lamarque/Reuters
Something peculiar happened in D.C. this week – beyond the peculiarities that have become standard operating procedure in the Capitol, at least.
Republicans proposed to cooperate with Democrats and no one made a much of a peep.
The prospect of Republicans and Democrats cooperating, of course, has become so unusual as to seem fantastical – as though "bipartisanship" last roamed the earth with the wooly mammoths and men in mukluks.
Indeed, one seemingly ironclad rule in a House of Representatives that apparently has no ironclad rules is that Speaker John Boehner (R) of Ohio will not bring a bill to the floor – even if he supports it, and even if it could pass – unless it has majority support among Republicans. For a man trying to hold on to his job, this "Hastert Rule" (named for former House Speaker Dennis Hastert) makes perfect sense. For parties trying to meet in the political middle, it is a death warrant. [Editor's note: The original version misidentified the "Hastert Rule."]
Yet this week, Sen. Rand Paul (R) of Kentucky and Sen. Patrick Leahy (D) of Vermont joined forces on a bill that would promote a top law-enforcement priority of President Obama. Yes, that Rand Paul.
---