JFK assassination: President Kennedy's last Veterans Day
(Read article summary)
JFK assassination has connections to Veterans Day 1963. On this day 50 years ago, John F. Kennedy took part in an observance at Arlington National Cemetery in Virginia.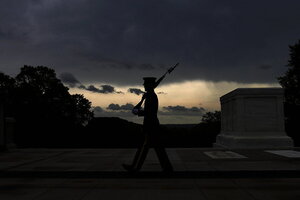 Mark Blinch/Reuters/File
Fifty years ago this day, President John F. Kennedy celebrated Veterans Day at Arlington National Cemetery in Virginia. It was his last holiday before his fatal trip to Dallas at the end of the month.
The official ceremony at Arlington was brief. JFK placed a wreath on the Tomb of the Unknowns, the marble sarcophagus with associated graves that honors unidentified dead from World War I, World War II, Korea, and now Vietnam.
According to a tape of the ceremony posted at the always-interesting Presidential History Geeks website, Kennedy marched on foot to the tomb with other officials and members of the color guard. The small assembled crowd murmured as he approached. At least one youngster blurted out, "There he is!"
JFK then walked forward toward the sarcophagus with a large ceremonial wreath on a stand. A color guard member helped carry it, while walking backward.
After placing the wreath in position, JFK stepped back and stood at attention while a bugler played "Taps." Then he marched away as quickly as he had come.
A few administration and military officials gave brief comments at a following ceremony. Kennedy was not among them. However, he had earlier issued the requisite presidential proclamation designating Nov. 11 as a legal holiday.
---