A polling puzzle: Obama's popularity at low ebb, even as economy improves
(Read article summary)
Obama is finishing 2013 with his approval ratings at an all time low, despite encouraging news on unemployment and GDP. Obamacare is one reason, but so, it appears, is the economy.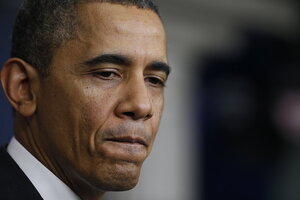 Charles Dharapak/AP
The last few months have taken their toll on President Obama's popularity.
Currently vacationing in Hawaii, Obama is finishing 2013 with approval ratings at an all-time low – and the lowest they've been for any president at this point in their term since Richard Nixon, according to one new Washington Post-ABC News poll.
The Real Clear Politics average puts Obama's approval rating at just over 42 percent, and his disapproval rating at 54 percent. The numbers are particularly striking when you consider that just a year ago, they were reversed, with approval ratings of about 54 percent and disapproval ratings of 42 percent.
The botched rollout of the Affordable Care Act clearly took a major toll on Obama – and the law itself is seen by Americans as both Obama's greatest achievement and his greatest failure to date, according to a new Gallup poll – as did the government shutdown and NSA surveillance controversy.
But perhaps most surprising, given that voters name the economy as their No. 1 issue, is that his tanking approval ratings coincide with an economic rebound. Unemployment is at 7 percent – its lowest level in five years – and GDP is growing. The 4.1 percent annualized pace of growth recently reported for the third quarter is the fastest quarter for GDP growth in two years.
Voters seem at least partially aware of that fact. In a year-end USA Today/Pew Research Center poll that also found abysmal approval numbers, and which chronicled how badly the Affordable Care Act and its botched rollout has hurt Obama, one of the few bright spots for the president were the views on his handling of the economy. While that number is still low – 42 percent – it has risen 11 points in just a month.
---