Justice Sotomayor to lead Times Square ball drop. Undignified?
(Read article summary)
Actually, Sonia Sotomayor is just following the trend of Supreme Court justices becoming celebrities. But the chance to share air time with Miley Cyrus on New Year's Eve is a first.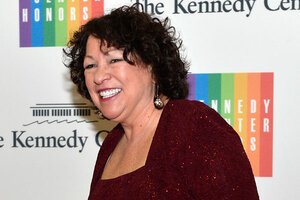 Mike Theiler/Reuters/File
Yes, it's true – Supreme Court Justice Sonia Sotomayor will play a key role in the drop of the New Year's Eve ball in Times Square on Tuesday night. She'll lead the ceremonial 60-second countdown and push the button which begins the ball's final descent.
Organizers of the event noted that Justice Sotomayor will be the first high court judge to play such a role, which we would have thought went without saying. However, the choice here is apt in that Sotomayor is a Bronx native and evangelist for all things New York City, including its pace of life and the speed of its ordered-in food delivery.
She was chosen for the New Year's Eve honor in part because of her inspirational story of rising from modest origins to become the first Hispanic on the Supreme Court, said event organizers.
"Justice Sotomayor is an inspiration to many, and it is a privilege to welcome her to our celebration to ring in 2014," said Times Square Alliance President Tim Tompkins. "Who better to join us in the Crossroads of the World than one of New York's own?"
Given that Sotomayor was tapped for the court by President Obama in 2009, there's been some grumbling on the right that her appearance is unseemly. The conservative news site Twitchy headlined their piece on this issue "Might Miley teach the justice to twerk?"
(Yes, Ms. Cyrus will perform on stage in Times Square in the 11 p.m. hour, according to the event schedule. She'll be pretty far from Sotomayor, however, so it's unlikely they'll meet.)
---