Are Chris Christie's problems getting worse? (+video)
(Read article summary)
Chris Christie faces a widening probe involving more close aides, more questions, and more scandals. And it's not just the press and New Jersey lawmakers in the investigation, it's also the feds.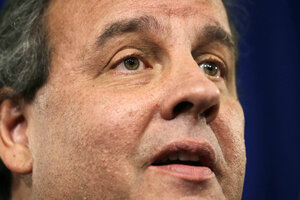 Mel Evans/AP
Chris Christie did a good job defending himself against Bridgegate last week, according to many Washington politicos. At his operatic press conference on Thursday, the GOP governor of New Jersey expressed shock and outrage that his aides would shut access lanes of the George Washington Bridge for political reasons. He said he'd just learned of the Bridgegate charges himself and summarily fired Deputy Chief of Staff Bridget Anne Kelly.
But today's a new dawn and for Governor Christie, the woods remain dark and deep, to mix a few metaphors. Bridgegate is not going away. Many questions remain, and top New Jersey Democrats have vowed to continue issuing subpoenas in an attempt to get answers. Christie's troubles may be at their beginning, not their end.
More people. For one thing, the universe of Christie aides with some connection to the Fort Lee lane closures keeps expanding.
Ms. Kelly; former Christie campaign manager Bill Stepien; and David Wildstein, a Christie associate and Port Authority official, remain at the core of the known Bridgegate problems. But what about David Samson? Documents made public last Friday showed that Mr. Samson, the Christie-appointed Port Authority chairman, accused the agency's executive director of "stirring up trouble" by leaking information about the controversial lane closures, according to New Jersey newspaper The Star Ledger. They also suggest that Christie and Samson met before Kelly sent her now-infamous "time for some traffic problems in Fort Lee" e-mail.
---