Obama helps re-election campaign and Dems by raising almost $44 million in April
President Obama raised that amount, almost nine million dollars less than what he raised in March, with more than 400,000 people contributing.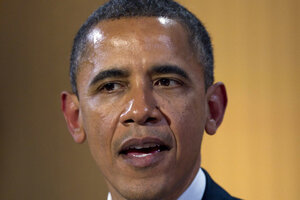 Carolyn Kaster/AP/File
President Barack Obama raised a combined $43.6 million in April for his campaign and the Democratic Party as he faces a unifying Republican effort around Mitt Romney for the White House.
Obama's April fundraising haul fell short of the $53 million he raised in March. That's as his campaign said more than 400,000 people contributed to the campaign last month, including 169,000 new donors.
"This election is going to be close, given the historic challenges this country faced when the president came into office," campaign manager Jim Messina told supporters in a YouTube video released Wednesday.
Obama's fundraising announcement came the same day the Republican group Crossroads GPS said it would spend $25 million on ads critical of the president. Crossroads is the non-profit arm of American Crossroads, a "super" political committee backed by former George W. Bush adviser Karl Rove that has raised about $100 million this election to defeat Obama.
---