Ohio Senator Portman changes course on gay marriage
Sen. Rob Portman, Republican of Ohio and an opponent of same-sex marriage, has changed his mind after learning two years ago his own son is gay.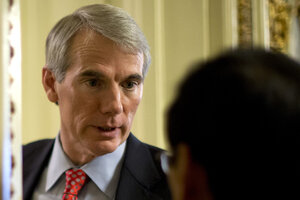 Carolyn Kaster/AP/File
Ohio Republican U.S. Senator Rob Portman, a longtime opponent of same-sex marriage, said on Friday he now believes gays have a right to marry after learning two years ago that his son is gay.
Portman, who was on the short list to be 2012 Republican presidential candidate Mitt Romney's running mate, made the announcement in an opinion piece in an Ohio newspaper and gave interviews on his change of heart.
"I have come to believe that if two people are prepared to make a lifetime commitment to love and care for each other in good times and in bad, the government shouldn't deny them the opportunity to get married," Portman wrote in an op-ed piece in the Columbus Dispatch, titled "The Freedom to Marry."
"That isn't how I've always felt. As a Congressman, and more recently as a Senator, I opposed marriage for same-sex couples. Then something happened that led me to think through my position in a much deeper way."
Portman said his 21-year-old son, Will, told the senator and his wife that he was gay in February 2011.
Portman's announcement comes about a week before the U.S. Supreme Court is to hear oral arguments in two cases related to gay marriage. One challenges the 1996 federal Defense of Marriage Act, which defines marriage as a union between a man and a woman.
In a related case, the court will also hear arguments that question a California law, known as Proposition 8, banning gay marriage. The cases will be argued on March 26 and March 27.
---