Obama to text the VP. What about McCain?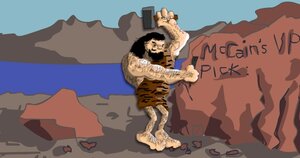 Jake Turcotte
Barack Obama's campaign made a lot of noise in the online world earlier this week with the pronouncement that Obama will send out a text message notifying supporters (or anyone who signs up) who he has selected as his vice presidential candidate. A first? Without question.
Will McCain follow suit? No word as of yet.
That Obama is planting this tech-flag first isn't surprising. Just yesterday, the Obama team announced a new campaign website designed specifically for mobile phones – complete with downloadable video. As they put it, the "site is ideal for all the people in your life that live and breathe on their cell phones."
Another innovation on barackobama.com
The consensus of those tracking the two e-campaigns is that Obama is tech savvy and McCain a luddite.
Don't believe it? Ask McCain.
"I am an illiterate that has to rely on my wife for all of the assistance that I can get," McCain said when responding to Politico's Mike Allen when asked if he used a PC or a Mac.
The conservative Washington Times echoed what digital critics are saying on TechPresident and other sites which monitor campaigns and the web when it recently ran the headline "High-tech campaign media race favors Obama."
---