Obama's VP pick - predictions, Internet hoaxes and guarantees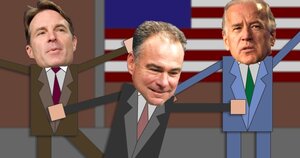 Jake Turcotte
All the talk this morning is about the upcoming VP selection. Around the Internet, hysterics ensued yesterday when a New York Times article proclaimed that Barack Obama had determined his running mate. Determined, perhaps. Announced, not yet.
There was some hysteria over on the GOP side as well when Mike Allen's headline over at Politico screamed that August 29 would be the day John McCain announces his forthcoming saddle pal.
But since we've got over a week to go through the endless reasons why a Tim Pawlenty selection would signal to some pundits that McCain is obviously not concerned with conservative cross-dressing anarchists in southern North Dakota, we'll keep focused on Obama and his upcoming pick.
The Obama road show
The soon-to-be Democratic nominee is in Florida and North Carolina today. Virginia tomorrow. Then the week opens up for an all out love fest for the happy ticket in determined battleground states.
So who is going to be traveling with Obama? The names on the short lists have remained pretty constant.
---