Obama's VP announcement - is it Chet Edwards?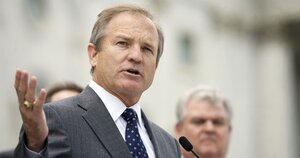 upi/newscom
It's almost like Christmas Eve except it's the third week of August and there's no snow or eggnog.  But the anticipation could rival the annual holiday.
Instead of hoping that St. Nicholas soon will be here, political observers are hoping that Barack Obama's vice presidential choice will soon be here.  And could it be a long-shot?  Just maybe?
Just in from the Associated Press
Presidential candidate Barack Obama is hours away from naming his running mate, as little-known Texas congressman Chet Edwards is emerging as a finalist.
Who is Chet Edwards?
Edwards is the nine-term congressman representing the 17th Congressional District of Texas which includes President Bush's ranch in Crawford.
He is also House Speaker Nancy Pelosi's choice to be the vice presidential running mate:
"I didn't want to see a discussion of candidates for vice president without showing the House of Representatives… I just wanted people to be aware of the extraordinary credentials of Chet Edwards. And I hope he will be the nominee."
How does he fare behind a microphone?  Here he is from the 2006 Texas Democratic Convention:
---
Follow Stories Like This
Get the Monitor stories you care about delivered to your inbox.