McCain goes to Hollywood - Appears on Leno, meets with celebs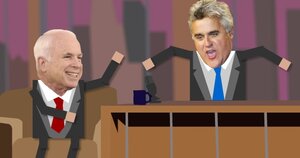 Jake Turcotte
For the past month, one strategy of the McCain campaign has been to paint Barack Obama as a "worldwide celebrity." Someone who is as idolized as much as a rock star, but who is - using their tagline - "not ready to lead." Pundits and pollsters seem to agree that this has been a successful strategy and has resulted in a leveling of poll numbers.
Despite this, however, McCain spent a lot of time with his own celebrities yesterday.
First it was Daddy Yankee, the reggaeton star, who endorsed the Senator at a Phoenix High School -- which prompted a few of the less-contemporary readers of this blog to write things like "who the heck is Daddy Yankee?" There were plenty of readers who seemed to like the singer. One visitor had an amusing and somewhat quizzical analogy:
"Haha! Daddy Yankee is the Sausage Haus of popular music," wrote Agamemnon.
Next up, McCain hit the Jay Leno show - a program he has appeared on numerous times. Fact is, McCain's a good guest.
And he was last night. Of course, it helps when you're under the public microscope. It gives comedians plenty of fodder.
Leno piled on from the beginning.
From the monologue:
""Tropical Storm Fay has soaked Florida ... ruining thousands of homes, most of them belonging to John McCain," he said. "In fact, to make Sen. McCain feel at home tonight, I gave him 7 dressing rooms."
Age was a fair target (or Leno made it so). Again, during the monologue:
"It was this week in 1814, British troops set fire to the White House. Did you know that?" Leno asked. "The White House was saved, it was saved thanks to the actions of one brave young soldier, John McCain."
---