Hanging chads in Alaska primary? Don Young waits...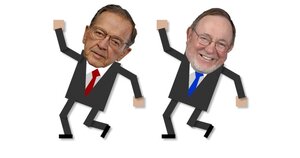 Jake Turcotte
We know this: one embattled lawmaker from Alaska has made it past the primary. He would be the longest serving Republican Senator in the history of our country, Ted Stevens.
His friend, Representative Don Young is, as new Democratic hero Governor Brian Schweitzer would put it, "dead-dang tied" with Lt. Gov. Sean Parnell.
It really is that close. With 437 out of 438 precincts in, the count shows Young leading by 152 votes - 42,539 to 42,387.
This raises the question - what about that other precinct?
Well, that precinct is in the town of Hughes which appears to be just northwest of smack-dab-in-the-middle in the nation's largest state. And according to the Anchorage Daily News, the phones are out, and election officials haven't been able to phone-in the results.
Hughes, according to Wikipedia, appears to be a good place to earn a living if you're a guy. Not so much, if you're female:
Males had a median income of $90,957 versus $0 for females.
So even if Parnell were to get all 63 of those votes, it would be over, right? Nope. And this is where the flashback to Florida begins.
There's still the issue of absentee ballots. The state sent out some 16,000 and has received about 7,600 of them back. If they are postmarked by election day, they can be received 10 days after being mailed in (15 days for overseas ballots). That puts us in the second week of September.
---