McCain's Veep speculation hits frenzy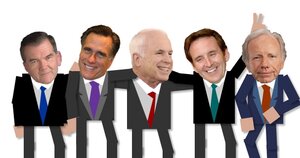 Jake Turcotte
Didn't we just do this last week?
It looks like John McCain is rolling out his VP pick tomorrow.  No need for the fancy-schmancy texting, this one looks like a traditional roll-out.  In front of the cameras and in a key state - Ohio.
The official line from the McCain campaign?  Bland.  But this is expected.  It's how campaigns work.
McCain spokesman Ben Porritt offered, "McCain is going to pick a VP based on merit; a proven leader with sound judgment and well rounded experience that will give the public confidence that he/she is able to step in and govern at a moment's notice."
The excitement is over at the Drudge Report where they claim the Senator has made his decision and there could be a leak today at 6pm (ET) followed by a confirmation two hours later...
But that would be stepping on Obama's acceptance speech tonight.  They surely wouldn't do that, would they?
In the meantime, we'll run through the oft-talked about short-list.
Mr. Massachusetts
Mitt Romney's name has been brought up numerous times -- getting perhaps an audition at the Democratic National Convention in the role of attack dog earlier this week.
James Carville, a guest at yesterday's Christian Science Monitor-sponsored Breakfast, said Romney doesn't worry him too much.   Carville said the goal in the selection of a vice presidential candidate should be  to "make the opposing campaign manager throw up."
---