Palin - vetted or not vetted?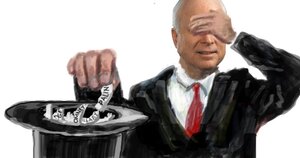 Jake Turcotte
It's Day 2 of the Republican convention, but hurricanes Gustav and Sarah have disrupted everything. Gustav - literally.  Sarah - figuratively, as in McCain running mate, Alaska Governor Sarah Palin.
Tuesday night's theme is "Serving a cause greater than self." But the media's got a different theme: "Was Sarah vetted?"
No official word from Vegas, but oddsmakers just may make the media's theme the favorite in this contest.
Perhaps it was appropriate that John McCain was asked about the vetting process at a firehouse today.
In attempting to put out what has become a media firestorm, McCain told reporters, "My vetting process was completely thorough, and I'm grateful for the results."
Among the chattering classes, however, skepticism rules the day.
Headlines this morning range from: The Atlantic's "They just didn't vet her" to NPR's "A look into the GOP VP vetting process" to MSNBC's "Just how well was she vented" to Reuters' pretty good summation of the week thus far with their "A perfect storm: politics, babies, bloggers, and a hurricane."
---