Forget Biden -- Palin's taking on Obama in new ad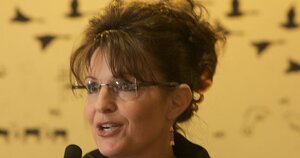 zumawirewestphotos/newscom
Guns a blazin', the McCain folks have had it.
They're pretty much having a Greg Focker "meltdown on the plane" moment.  They're not saying, "I've had it with the checking-of-the bags conversation."  But they are saying, "We've had it with the vetting-of-the-Sarah Palin conversation."
Steve Schmidt, aka "the bullet," aka McCain head honcho, sent Politico an email this morning saying no more.
"This vetting controversy is a faux media scandal designed to destroy the first female Republican nominee for vice president of the United States who has never been a part of the old boys' network that has come to dominate the news establishment in this country ... The McCain campaign will have no further comment about our long and thorough process. This nonsense is over."
Not only did they say 'talk to the hand' on the vetting issue, they launched a new :30 commercial that is not exactly a Christmas card from Wasila.
---