Palin's make or break speech tonight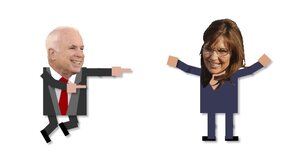 Jake Turcotte
No one better could have put Sarah Palin's speech tonight in better perspective than the late legendary movie trailer announcer Don LaFontaine. Called the "king of voiceovers" LaFontaine could set up the story line:
"In a rough and tumble world where the enemy is everywhere -- from CNN's  Campbell Brown asking questions of a spokesman to the New York Times's Elisabeth Bumiller  -- the world awaits ... and wonders...
MUSIC CHANGE to the William Tell Overture...
"Could a former beauty queen, now a mother of five from Alaska be the next Vice President? First she has to win the hearts and minds of a skeptical America.
"It's the outrageous, feel-good movie of the year: "Sarah Goes to Washington."
OK. Real world: Taking on the Alaskan establishment and wrestling away the top political office in the state after beating two powerhouse names was no small feat for Palin. The woman has shown she knows how to win and impresses people on both sides of the aisle for her substance.
But that hasn't stopped political insiders and pundits from observing that the rising Republican star could have used a few more years of seasoning before running for the second highest office in the land.
---