Sarah Palin: How do you like me now?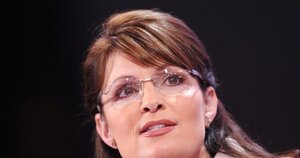 Olivier Douliery/Abaca Press/MCT/krtphotos/newscom
If there's one song the McCain campaign is singing this morning - probably very loudly - it's Toby Keith's "How do you like me now?"
Vice presidential nominee Sarah Palin might be humming it too after a speech that's being called electrifying, amazing, even "Reaganesque."
The consensus among pundits was that the speech was well delivered and that she gave a confident, forceful performance -- no wonder her nickname is "Sarah Barracuda."
Smooth sailing ahead?
And it should, barring any other unvetted controversies, put the focus back on the soon-to-be Republican nominee John McCain.
Yesterday, it seemed the only ones not doubting the pick were McCain and campaign managers Rick Davis and Steve Schmidt.
In fact, two high profile Republican strategists - thinking they were off-mic - lambasted the Palin pick.
On-mic or off-mic, no one was questioning the pick immediately after the speech.
Palin vs Obama
Comparing her qualifications versus Barack Obama's? Palin mockingly compared them.
"I was mayor of my hometown," Palin said. "And since our opponents in this presidential election seem to look down on that experience, let me explain to them what the job involves.
---