McCain's maverick ad starts shootout over earmarks
(Read article summary)
Obama and McCain spar over Palin's claim that she killed the "bridge to nowhere"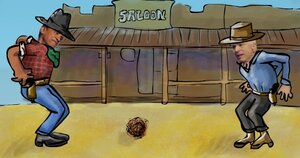 Jake Turcotte
It's high noon on the campaign trail. And both campaigns are throwin' out fightin' words.
What started it? A new ad.
Called "Original Mavericks" the McCain campaign is playing up the cowboy image. In fact, the spot sounds a heckuva lot like the "Beef, it's what's for dinner" commercial (see the ad below).
Sam Elliot didn't do the voice for it but when you hear it, you get the unmistakable feeling that you're at the OK corral.
"He fights pork barrel spending," says the Elliot-soundalike. "She stopped the Bridge to Nowhere. He took on the drug industry. She took on Big Oil.
"He battled Republicans and reformed Washington," the wannabee continued. "She battled Republicans and reformed Alaska. They'll make history. They'll change Washington."
I aim to disagree
The beef the Obama campaign has with the ad? It isn't true - specifically, the "bridge to nowhere" claim - so says Obama spokesman Bill Burton.
"Despite being discredited over and over again by numerous news organizations, the McCain campaign continues to repeat the lie that Sarah Palin stopped the Bridge to Nowhere," Burton said.
---