Sarah Palin unplugged - Charlie Gibson grabs first interview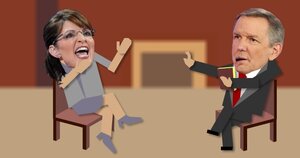 Jake Turcotte
The first hurdle for Republican vice presidential nominee Sarah Palin was getting past the paparazzi-like frenzy that erupted following the surprise announcement.   Check.
The second hurdle was introducing herself to the American public by giving a speech in front of 40 million people.  Check.
Hurdle number three?  Talk to the media.  Not quite checked.
Radio silence
There has been criticism from the media thus far because outside of a People magazine interview, Palin hasn't been speaking to the media so much.  Well, not at all.
To be fair, Palin has been the nominee for only ten days.  And the first few days Palin, said the McCain campaign, was focused on her convention speech.
It's not like she's out of sight.  She's been thrilling crowds with McCain at every campaign stop so far.  But she has yet to do a talk show or a serious one-on-one interview.
Cycle of piranhas
On FOX News yesterday, one of McCain's campaign managers - Rick Davis - defended the campaign's decision thus far to keep Palin away from the media.
"Why would we want to throw Sarah Palin into a cycle of piranhas called the news media that have nothing better to ask questions about than her personal life and her children?" Davis said. "So until at which point in time we feel like the news media is going to treat her with some level of respect and deference, I think it would be foolhardy to put her out into that kind of environment."
---
Follow Stories Like This
Get the Monitor stories you care about delivered to your inbox.