Palin moving crowds and poll numbers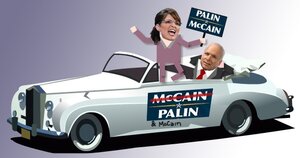 Jake Turcotte
When it comes to polls and crowds, Sarah Palin knows how to move the numbers.  Added bonus for the McCain team, she's moving the numbers in the right direction.
Polls are up.  Crowds are up. Why?  It appears you can credit the Alaska Governor as McCain's running mate.
Polls are fluid and as we've seen in the last two weeks, they can fluctuate wildly.  They are merely a snapshot.  And the last few snapshots show that people are liking Palin.
It's all tied up
Most polls show the McCain - Obama contest a statistical tie.  That's up from the lead the Obama campaign had last week. Credit the post-convention bounce for McCain.
CNN in their "poll of polls" averages five major surveys to get a read of what's happening.  Specifically, they look at ABC/Washington Post, CBS, Gallup, Diageo/Hotline and their own poll.  They find that the contest is a virtual dead-heat at 48 percent apiece - a three point decline for Obama since Saturday.
 White flight?
So if it is just a tie, why the endless analysis?  The devil's in the details.
And the details of a new Washington Post/ABC News poll show a dramatic shift in the numbers of white women who, before the Democratic Convention, supported Barack Obama but now support John McCain.
---