Obama hauls in the cash with $66 million in August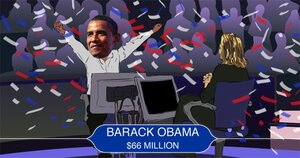 Jake Turcotte
A lot of records have been set this month. On Saturday, South Bend, Indiana, received a record amount of rainfall -- nearly 6 1/2 inches. This past week, a record amount of hogs were slaughtered in the US for a week in September. And the State of California has gone the longest in its history without a budget.
What could be more newsworthy than the above? A cool $66 million that Barack Obama's campaign raised in the month of August. That is the most ever raised in one month in the history of presidential contests.
New donors
The Obama campaign is also touting the number of new donors -- about 500,000 have joined the ranks to support the Democrat's candidacy. No doubt the campaign will hit these new donors up again as most haven't hit the $2,300 limit.
"John McCain says that he'll take on the special interests and lobbyists, but McCain can't fix a problem he's been part of for three decades. The 500,000 new donors to the Obama campaign demonstrate just how strongly the American people are looking to kick the special interests out and change Washington," said Obama campaign manager David Plouffe.
The extra cash is a necessity for the Obama campaign; most polls show John McCain has closed the gap to a virtual dead heat.
No public financing
Unlike McCain, Obama decided to forgo any public financing for his campaign. This is something that the McCain campaign brings up regularly.
---