Ted Nugent blasts Matt Damon on Palin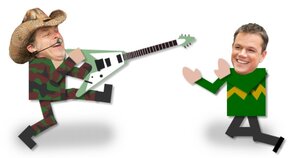 Jake Turcotte
Ted Nugent and Matt Damon disagree. Imagine that.
The noted hard rock star and hunter doesn't see eye-to-eye with the popular actor in assessing the qualifications of Republican vice presidential nominee Sarah Palin.
Palin is "absurd"
In a recent video interview, Matt Damon was asked his thoughts about McCain's surprise running mate. Saying that he knew very little about Palin outside of her mayoral and gubernatorial experience, he chalked it up to pure politics before calling it absurd.
"It's like a really bad Disney movie," Damon told the Associated Press. "The Hockey Mom.' Oh, I'm just a hockey mom from Alaska, and she's president. She's facing down Vladimir Putin and using the folksy stuff she learned at the hockey rink. It's absurd."
A calm Nugent
Anyone who has watched Ted Nugent appear on talk shows over the years knows he can deliver a punch when he deems it necessary. In an email exchange The Vote had with Nugent this morning, the rock star starts off diplomatic.
---