McCain and Obama on International Talk Like a Pirate day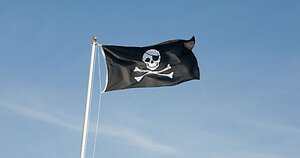 imsphotos/newscom
It's "International Talk Like a Pirate Day," and somehow -- despite jumping on virtually every issue and occasion to go at each other -- neither John McCain nor Barack Obama bothered to fire off an election year "yar."
It is our duty therefore to re-write a couple of their most recent commercials in pirate-talk. We use the "official" International Talk Like a Pirate web site as a guide to correct phraseology. Please send any complaints on verbal usage to that site. When a pirate spouts the lines instead of a golden-toned TV announcer, you can really see how attack ads go overboard.
Patriotic Act (a McCain commercial - click for the actual spot)
Arrrrrrrrrrrrrrrrrr! Joe Biden be hoistin' the grog. The bilge rat is wantin' to pillage your booty.
Obama and Biden voted to plunder yer doubloons even if ye have only 42,000 doubloons to yer name.
Higher taxes on seen-yarrrrrrrrrrs.
Higher taxes on yer lights.
Lots more plunderin'...
Lots more pillagin'...
Obama-Biden. Like getting keelhauled in yer rudder.
I'm John McCain and I be approvin' this message.
Who Advises? (an Obama commercial - click for the actual spot)
Arrrrrrrrrrrrrr. John McCain sez on the economy he's marooned on the Island of Dumb.
---
Follow Stories Like This
Get the Monitor stories you care about delivered to your inbox.