The debates: high stakes, sound bites and zingers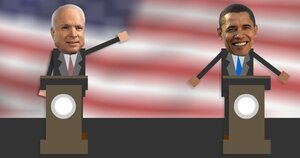 Jake Turcotte
Some might say the selection of Sarah Palin to the Republican ticket didn't make any sense. Kind of like the lyrics to "Come Sail Away" by Styx.
It starts off you're on a boat, everything's OK. You ask your girlfriend to join you. You're searching for tomorrow "on every shore." Next thing you know, you're getting abducted by space aliens.
But it was a huge hit for the band. Palin's been a huge hit for the McCain ticket. She's brought in a lot of money. The base is energized. The polls shot up - although nationally they've stabilized. But in state-to-state contests, it's all pretty even.
It's too close to call
That's what makes the upcoming vice presidential debate, not to mention the three presidential debates, so interesting. We need Tim Russert back -- for a number of reasons. But there was no one who had more enjoyment in announcing, "It's too close to call."
The debates have the potential of tipping the race in one direction. As David Broder writes this morning, the debates can present another turning point.
"Now, they meet with terribly high expectations on both of them and little room for error," Broder writes. "McCain, after enjoying a brief boost from the Republican convention and the unveiling of Sarah Palin, has fallen back into his pre-convention position, lagging slightly behind. Obama still is unable to lock down 270 electoral votes because he is falling well short of the lead that Democrats enjoy generically over the Republican opposition this year."
---