New polls show Obama and McCain tied everywhere (almost)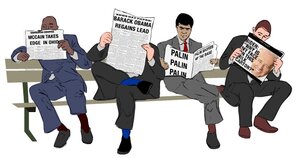 Jake Turcotte
As we ramp up to the first presidential debate of the season, it feels a bit like 1999. The Americans win the Ryder cup. Brian Griese is a starting quarterback. And John McCain is running for President.
New polls are out everywhere. You could make a career out of interpreting them.
Sabato-mania
One person who has done just that is the ever-present University of Virginia professor Larry Sabato. Sabato seems to going for a personal record -- make an appearance in every news outlet worldwide -- by the end of the year.
Today he can scratch the BBC from his list, penning a very interesting column on that site on the possibility of an electoral college tie.
Ugh, a tie
A possibility? Not likely. But Sabato says to keep an eye on seven key states: Colorado, Michigan, Nevada, New Hampshire, Ohio, Pennsylvania, and Virginia.
"If you mix and match states on the map, in fact, you will quickly see that it relatively easy to produce a tie in the electoral college," Sabato writes. "So what happens if one occurs? In two words: a mess."
---