Why won't Sarah Palin talk to the press?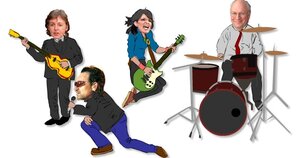 Jake Turcotte
At one time, Joe Biden was the mystery man. Not getting any press. Not making any noise. That wasn't of his own doing, of course. He was just being ignored. John McCain, Barack Obama, and Sarah Palin were just too newsworthy.
Not recently, however. Biden's been all over the news. Some of his appearances have been positive for the campaign and some have made the Obama campaign wince, grimace, and imitate the Homer Simpson, "Doh!"
But he's been out there. Sure, he dramatized the helicopter incident. And sure he flip-flopped on the McCain disco commercial.  But he's also fired up the base at different gatherings and has spoken forcefully about Obama's agenda and slammed McCain into next year.  And he's given the press whatever they wanted.
Dick Cheney
We can't say the same thing about the Republican nominee for vice president. In fact, it's the polar opposite.
It's like she's disappeared in to Al Gore's infamous lockbox. Either that or she's pulling off the greatest impersonation ever of Dick Cheney in an undisclosed location.
We changed our minds
Today, for example, the traveling press was told there would be a print reporter and a producer in the pool at the beginning of the meeting with Afghan President Hamid Karzai.
---