Biden slams McCain on national security (stays on message)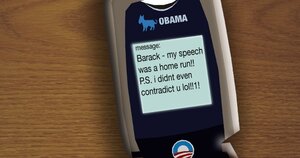 Jake Turcotte
Billed as a speech on national security, Democratic vice presidential nominee Joe Biden filled the role of attack dog today in Cincinnati.
Some could say the most notable achievement of the speech was Sen. Biden's ability not to contradict any of Obama's positions, which – given this past week – is a big improvement for the Senator.
While those less cynical could argue the speech was a powerful rebuke to John McCain's strong advantage (according to polls) on the foreign policy front.
McCain was right?
"This week, John talked about the judgment required to be Commander in Chief. He's right: nothing is more important than judgment," Biden said, flirting with another possible gaffe.
"But time and again, on the most critical national security issues of our time, John McCain's judgment was wrong," he said to the likely relieved sighs of the Obama campaign.
Non-stop failures
"Right after the terrorists attacked us on 9-11, John responded by urging that we consider attacking countries other than Afghanistan, including Iraq, Iran, and Syria," Biden said before going into many more examples of what he considered McCain failures.
---