Obama to Biden: Please quit talking!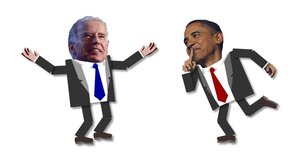 Jake Turcotte
You just have to wonder when the day of campaigning is done and Barack Obama nervously reviews what his running mate, Joe Biden, had to say on the campaign trail if he doesn't call him and do his best impersonation of Chris Farley saying, "I wish you could just shut your big YAPPER!"
With Joe Biden on the road, the hits just keep on coming.
YouTube
No one can underestimate the influence of YouTube in the 2008 campaign. The online video sharing website is often the starting point for a political brawl. Sure, reporters can be emailed a statement alleging that a candidate said something, but when the YouTube video is embedded or linked in the email, it makes it a heckuva lot easier to just hit that play button.
Yesterday, we saw what one congressman coined, "Senator Biden's bizarre anti-coal rant."
The so-called "rant" was caught on video and spread around the Internet yesterday. It showed Joe Biden meeting with supporters after an event in Ohio Saturday.
Here comes Joe
A woman, identified as part of a "clean energy organization," questioned Biden about his support of clean coal technology when solar and wind technologies are "flourishing."
"We're not supporting clean coal," Biden said. "Guess what? China is building two every week, two dirty coal plants. And it's polluting the United States, it's causing people to die."
---