McCain, Palin, Letterman and SNL - what a week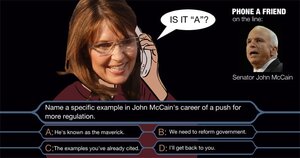 Jake Turcotte
What a week in politics. A suspended campaign, a call for the debate to be postponed, a resumed campaign, a calamitous television interview, a call for the debate to be un-postponed, and lots and lots of comedy -- all at the expense of the Republican ticket.
Last night was the latest chapter in a wild week.
Cringe
Sarah Palin's real life interview with Katie Couric was not well-received. Disastrous, cringe-inducing, awful, and unflattering were all words used to describe the one-on-one.
So bad was the interview, Republican strategists were calling for McCain to resume his campaign and hold the debate simply to get the Couric interview off the air.
One conservative columnist called for Palin to remove herself from the ticket stating that the Alaska Governor was "clearly out her league." And a FOX News commentator agreed with the "out of her league" assessment stating, ""I hate to say it, but she may be right."
The interview, however, provided a goldmine for comedy writers.
Sarah and Katie
---