Gotcha? Palin's encore performance with Couric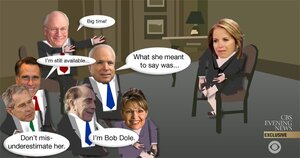 Jake Turcotte
Anyone complaining about Sarah Palin being inaccessible to the media is just looking in the wrong place. She's plenty available, as long as you're Katie Couric.
The Republican nominee for vice president did an encore with the CBS News anchor Monday night.  As an added bonus this time, Palin brought along running mate John McCain.
The three chatted about Pakistan, "gotcha journalism," and her previous interview. Well, in reality the interview was all about Palin. Palin's comment on Pakistan, whether Couric was engaging in gotcha' journalism with Palin, and the YouTube extravaganza which resulted from the prior interview.
Pakistan
Last week Palin appeared to tell a voter that she would support a US-led attack on Pakistan to, in her words, "stop the terrorists from coming any further in." Couric asked her if she should have said that and noted that the position sounded similar to Barack Obama's.
"We had a great discussion with President Zardari as we talked about what it is that America can and should be doing together to make sure that the terrorists do not cross borders and do not ultimately put themselves in a position of attacking America again or her allies," she said.  "And we will do what we have to do to secure the United States of America and her allies.
Gotcha
---