Sarah Palin: Barracuda or Bambi?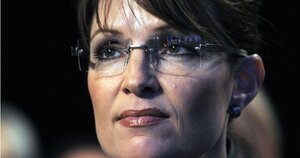 AFP/Newscom
In Sarah Palin's short time in the national spotlight, her rise and fall has been dramatic.
In one month, she's gone from the darling of the Republican party (remember her convention speech?) to a seeming liability with calls from some conservatives for John McCain to hit the restart button and get another running mate.
Plummeting polls
A new Washington Post poll this morning shows that 60 percent of those polled do not believe Palin has the adequate experience to be President. Further, one-third of likely voters polled said they are less likely to vote for the GOP ticket because of Palin.
This doesn't seem to jibe with many of the people who know Palin best. They know her to be something else. And it sure isn't the timid, unsure, and fragile Sarah Palin who appeared in the never-ending series of interviews with CBS anchor Katie Couric.
They know the confident, energetic, fiesty Sarah Palin from the convention. They say there's a reason that Palin's high-school nickname, "Sarah Barracuda," has stayed with her throughout her career: She knows how to strike.
Ain't got the same bite, baby
What's the problem? Critics say it's the McCain campaign. Her handlers. The people that 'know best' how to deal with the media.
---