Conservatives question McCain's attack strategy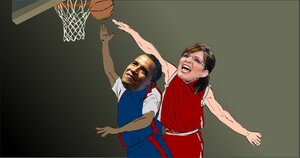 Jake Turcotte
With a month to go and the poll numbers down, the McCain campaign is playing the guilt by association card, and that's leaving some conservatives uneasy.
On Saturday, the recently unsequestered and newly empowered Sarah Palin went on the offensive, toting the "gloves are off" line and then rolled out the sound bite the McCain campaign knew would get a lot of ink pixels:
"Our opponent … is someone who sees America it seems as being so imperfect that he's palling around with terrorists who would target their own country," she said to a boisterous crowd in California.
Mucho media
As a result, Obama's health care speech in North Carolina was squashed. All eyes and ears were on the moose-hunting governor of Alaska.
Palin was talking about Barack Obama's past relationship with Bill Ayers, the co-founder of the violent 1960s era group the Weather Underground.
"Low-blow," cried the Obama campaign emailing a list of news organizations that have concluded that the relationship between Obama and Ayers is tenuous.
Palin is Bill Laimbeer
---