Debate II: Can it get any more boring?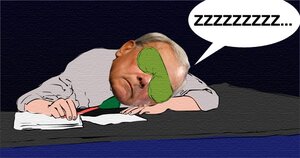 Jake Turcotte
If Bachman Turner Overdrive were to write the soundtrack for last night's debate, they'd have to change only one word in their signature song: "You Ain't Seen Boring Yet."
Apparently John McCain didn't get Sarah Palin's memo that "the heels are on and the gloves are coming off." Had either candidate worn heels or removed gloves, it would have provided a lift to an otherwise flat evening. Old episodes of The Waltons would have been more riveting.
Ayers
The buzz going in was that McCain might play the Ayers card – as in the GOP's continued linking of Barack Obama to the co-founder of a violent 60s group, the Weather Underground.
The link has been a staple of Sarah Palin's stump speeches, in which she utters Ayers's name more than "betcha" or "doggone." Over the weekend she said Obama was "palling around with terrorists." And yesterday she added some flavor, as in dishonesty, to the charge.
"Now our opponent's campaign is claiming for the first time, Barack Obama wasn't aware of Ayers' radical background. Barack recently remembered him as just a guy in the neighborhood," Palin said. "Wait a minute there. You mean to tell me he didn't know he had launched his own political career in the living room of a domestic terrorist?"
Be careful
The Obama camp signaled that they were ready for such a discussion. Obama strategist David Axelrod told reporters that a mentioning of Ayers was something McCain should do at his own peril. Axelrod didn't say whether Obama would play the link-game as well but mentioned that McCain's role in the Keating Five scandal was fair game.
---