McCain to Biden: Too early to celebrate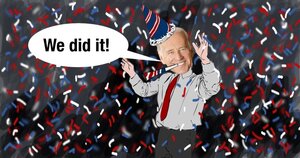 Jake Turcotte
In response to a Joe Biden email telling supporters that the "McCain campaign is on the ropes," the McCain camp responded that it is too early to celebrate.
"Being an underdog is a role that John McCain relishes and with 26 days left I don't think Joe Biden should pop the champagne just yet," said McCain spokesman Ben Porritt. "We are confident that as people make their decisions they will choose John McCain, a maverick with a real record over Barack Obama —an unknown commodity with radical associations and poor judgment."
Biden email
Biden's email encouraged supporters to donate $5 or more "to show John McCain and Governor Palin that when they attack us with lies and smears, it literally makes our campaign stronger."
If they get $5 every time the McCain camp launches an attack ad, they'll likely set a fund-raising record. It's not going to get any nicer. Forget ponies and gumdrops -- think Damien and Freddie (Krueger - not Mac).
New ad
The McCain response echoes a new ad the campaign launched today -- easily the strongest spot yet pairing Weather Underground founder Bill Ayers with Barack Obama.
The charge is nothing new, surfacing before the general election and most recently with vice-presidential nominee Sarah Palin mentioning Ayers at every campaign stop. Palin also discussed the Ayers-Obama relationship last night with FOX News host Greta Van Susteren.
---