McCain's poll numbers have fallen and he can't get up!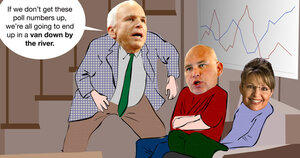 Jake Turcotte
If Bruce Springsteen were to record the soundtrack for the last couple weeks of the McCain campaign, the first single would be "I'm goin' down."  And the emphasis on the word 'down' couldn't be more appropriate for these last two weeks.  After all, Springsteen repeats it 86 times.
That's not to say the campaign is a Hindenburg. But before cries of "Oh, the humanity" emanate from inside the Republican ticket, they've got some turning around to do.
Poll numbers
New poll numbers from Tuesday's debate are in – courtesy of Gallup and USA Today.
Most people polled fell asleep didn't change their feelings about either candidate.  Some 54 percent said Obama's performance didn't change their opinion of him, while 53 percent said they felt the same way about McCain following the debate.
But that's where the common ground stops. Of those polled, 34 percent had more favorable opinions of the Democratic nominee following the event, while 33 percent had more unfavorable opinions of McCain.
Not surprisingly, those polled thought Obama "won" the debate, with 56 percent thinking Obama did a better job, compared with only 23 percent preferring McCain's performance.
Underdog is here
News of this poll didn't seem to deflate the Republican nominee. In fact, it might have just fired him up.
Speaking in Wisconsin today, McCain dismissed those who have declared him legally dead in the past. And you've got to give McCain some credit here. That list is plenty long.
"Do you know how many times the political pundits in the last two years have written off my campaign?" McCain asked the crowd. "We'll win the state of Wisconsin and we'll win this election and you can count on it because we will go to the American people and take our message to them."
---