Obama's middle name - not in the talking points!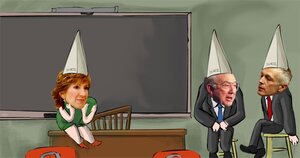 Jake Turcotte
It's a war of words.  Whether it is Sarah Palin's overuse of the word "maverick," John McCain's anguish-inducing repetition of "my friends," or the gaffe-laden potpourri emanating from Joe Biden, the words candidates say are always under the microscope.
Surrogates and supporters do best when they act like parrots – mimicking talking points rather than expressing a thought of their own. And actually, that's fair. You don't vote for spokespeople. You vote for the candidate.
Where'd they go?
Not everyone gets the memo.
When a spokesperson or a surrogate freelances, they head into deep water. Some are never to be seen again.
Carly Fiorina, of the infamous "Palin is not qualified to run a business" remark only to be outdone by her "McCain is not qualified to run a business" statement, currently resides with sleestaks in the Land of the Lost.
Former Senator and McCain adviser Phil Gramm, after the "we're a nation of whiners" remark, is – especially now in light of the country's economic meltdown – considered raw plutonium.
---