McCain campaign strategy: Go nu-cular or go nice?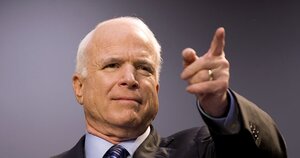 AFP/newscom
New McCain theme song for the week? With all the squabbling going on within Republican circles about what John McCain should do, shouldn't do, should have done, shouldn't have done, McCain and running mate Sarah Palin could start singing the old Stealers Wheel chorus:
"Clowns to the left of me, jokers to the right, here I am stuck in the middle with you."
With 22 days to go before the election and polls not favorable to the Republican ticket, everyone has advice for the McCain campaign. Everyone.
Hockey
Some believe he should amp up the attacks. Others believe he's got to tone it down. Probably most would agree that sending Sarah Palin to Philadelphia -- a city which booed Santa Claus -- to drop the puck at a Philadelphia Flyers hockey game might be risky.
Yep. That idea blew up. Here's a link to the video. Thankfully there was no snow. Santa appeared at an Eagles game and was greeted by hostile snowballs.
But she's a hockey mom. What went wrong? Wardrobe malfunction.
A Forbes blogger writes that Palin brought some of this on herself. Apparently, a week earlier while in Philadelphia she tried - unsuccessfully - to go out for a jog in a New York Rangers hockey jersey.
No hockey fan in their right mind would show up in Philadelphia wearing a jersey of a New York team, or vice-versa, without expecting some sort of fight to ensue.
---