Forget Palin - McCain needs Joe the Plumber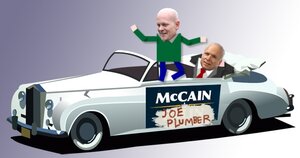 AP/Jake Turcotte
Perhaps John McCain should part ways with running mate Sarah Palin and add Joe the Plumber to his ticket.
McCain hasn't had so much media buzz about his campaign since he made Palin his surprise pick six weeks ago.  And his poll numbers are actually up today.  The latest Gallup three day tracking poll shows McCain down only by a 49 - 43 margin.
Biden bites plumber
And one of his opponents over on the Obama-Biden team went after Joe the Plumber with the same fervor held for Palin back in her glory days. Guess who? Of course.  Joe Biden.
"I don't have any Joe the Plumbers in my neighborhood that make $250,000 a year and are worried," Biden said on the Today Show. "The Joe the Plumbers in my neighborhood, the Joe the Cops in my neighborhood, the Joe the Grocery Store Owners in my neighborhood, they make – like 98 percent of the small businesses – less than $250,000 a year and they're going to do very well under us."
Biden the bully?
It's uncertain if Biden mentioned the words "Scranton" or "hardscrabble" in his rounds this morning.  But his remarks did lead to a sharp rejoinder from the McCain campaign.
"Joe Biden's attempt to bully Joe the Plumber today speaks volumes about how disconnected Barack Obama's economic policy is to the needs of the middle class Americans," said McCain spokesman Ben Porritt. "It is astounding that Joe Biden, the self-adulated 'everyman,' can't believe that an American making less than $250,000 a year might still be opposed to socialism"
---